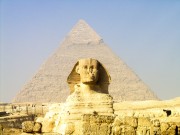 Egyptologist Dr. Zahi Hawass comes to the Los Angeles County Museum of Art (LACMA) to Reveal new findings in the Sphinx and secret doors inside the Great Pyramid of Khufu.
Since the Revolution of 2011 which caused a serious upheaval in the Egyptian Government, scientists, specialists and media crews have nearly ceased the 100-year flow of information garnered from new excavations of ancient Pharaonic tombs.
 "We were thrilled to discover the Tombs of the Ancient Builders, and to find new information about the secret doors found recently inside of the great pyramid of Khufu," stated DR. ZAHI HAWASS, EGYPTIAN NATIONAL MINISTER OF ANTIQUITIES
On the morning of January 25, 2011, Dr. Hawass first learned that the unrestrained social Revolution in Cairo had eroded into the looting of valuable artifacts and antiquities from his cherished Cairo Museum. Images of violent riots and fires all around his beloved city filled the local television newsreels. Realizing that Police and Military forces were largely preoccupied with other parts of the city, Hawass went directly to the Museum on foot. To his astonishment, he discovered an organized group of citizens surrounding the building, arm-in-arm. Their intention: to do what was necessary to protect the country's cache of cultural assets.
Filled with pride, Hawass entered the museum to witness for himself, the extent of the destruction of the exotic historical treasures that have entranced the globe since Howard Carter and Lord Carnarvon discovered King Tut's tomb nearly 100 years ago.
Dr. Hawass will come to the Los Angeles County Museum of Art (LACMA) Sunday August 30th at 2:00pm to discuss the effects of the social upheaval on the preservation of Egypt's cultural assets, and the raiding of one of the world's most famous Museums in Cairo. He will also share the discoveries of new tomb sites that have been excavated since the 2011. These discussions will be followed by a signing of his two latest books "Pyramids: Treasures, Mysteries, and New Discoveries in Egypt" and "Secrets from the Sand".
This event is open to the general public. Tickets are available for purchase in person andonline. For more details about this upcoming event, please visit: http://www.lacma.org/event/pyramids-mummies-and-cleopatra.
Share: