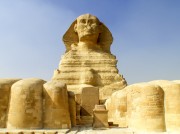 Egyptologist Dr. Zahi Hawass Will Share Latest Ancient Findings
Santa Ana, CALIFORNIA, September 17, 2015 (Newswire.com) - ​​​​​​Dr. Zahi Hawass, former Egyptian Minister of State Antiquities and world-renowned Egyptologist, will return to the Bowers Museum in October to share information on the latest archaeological discoveries in Egypt. This event will be in conjunction with International Archaeology Month, and will feature a variety of archaeologists and speakers, including a presentation by Egypt's own archaeological expert, Dr. Zahi Hawass.
Dr. Hawass will share the new findings that have resulted from the excavation and examination of a series of mummies over the past few years. Since the Revolution of 2011, which caused a serious upheaval in the Egyptian Government, scientists, specialists and media crews have nearly ceased the 100-year flow of archaeological information garnered from new excavations of ancient Pharaonic tombs. 
 Dr. Hawass' presentation, to be held on October 18th at 2:00PM at the Bowers Museum in Santa Ana, will attempt to answer a myriad of questions that have arisen since the Revolution. Some of these topics will include:
Are there really secret doors inside the Great Sphinx?

Is the tomb of Queen Nefertiti really hiding behind a wall within King Tut's Tomb?

What is the current status of the controversial Northhampton, England sale of the ancient statue of Sekhemka?

3D Renderings: What did King Tut really look like?

Diseases: were their ancient illnesses different from our modern diseases?

What about the ancient Amulets that have been found recently in some mummies?

Is there archaeological evidence of Moses or Joseph in ancient Egypt?

The discovery of Hatshepsut's tomb, the only female Pharaoh in Egyptian history;

What happened during the criminal raid of the Cairo Museum during the unrest of 2011?
"These are some of the most frequent questions that are asked of Egypt, and I am happy to share this information with our friends at the Bowers Museum," stated Dr. Hawass in a recent discussion.
Dr. Zahi Hawass' appearance will be followed by a signing of his two latest books "Pyramids: Treasures, Mysteries, and New Discoveries in Egypt" and "Secrets from the Sand".
"We were thrilled to discover the Tombs of the Ancient Builders, and to find new information about the secret doors found recently inside of the great pyramid of Khufu. And we will share some new data regarding the search for the tombs of the famous Cleopatra and Mark Antony," added Hawass.
Dr. Hawass is familiar to many as "the guy with the Indiana Jones hat" that has appeared in hundreds of ancient Egypt-related documentaries, books and articles for the past several decades. As the former Secretary-General of the Supreme Council of Antiquities, as well as the first Minister of State for Antiquities in Egypt, Hawass has overseen all Egyptian excavations that have taken place for over three decades. Dr. Hawass received his BA from Alexandria University in Greek and Roman archaeology, and a diploma in Egyptology from Cairo University. His MA and PhD were granted by the University of Pennsylvania, where he studied as a Fulbright fellow. Additionally, Dr. Hawass has received five honorary doctorates from various foreign universities. He has written more than 40 popular and academic books and more than 150 scholarly articles on his excavations, as well as innumerable pieces for Arabic and English newspapers and magazines. In 2006, TIME Magazine included Dr. Hawass in their list of the "100 most influential people in the world."
Early in his career, he became concerned with the haphazard methodologies of preserving the precious antiquities. Setting in place a variety of policies and programs to protect and conserve the country's extensive inventory of antiquities, Hawass created a 'template' that many countries have since followed with the hopes of saving their own cultural antiquities from eternal loss or ruin.
The Bowers Museum is located at 2002 North Main Street, Santa Ana, Ca 92706. This event is open to the general public. Tickets are available for purchase in person and online. For more details about this upcoming event, please visit: www.DrHawass.com and http://goo.gl/Nb5YGk
End
# # # 
Share: